Miles Hire welcome sister Jo-Ann to complete the family triad at South Wales' leading tool and plant hire firm.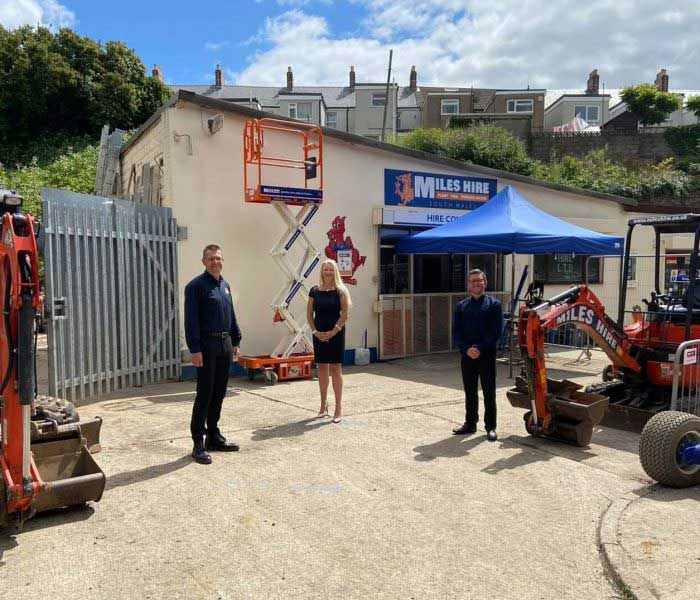 Miles Hire– established plant and tool hire firm based in South Wales, has some very exciting company news to share with their customers this month. From dumpers, diggers and rollers for large construction projects through to cement mixers, tile cutters and power tools for home renovations; for decades – Miles Hire has sat at the helm of their industry, providing hire products delivered with first-class service.
Until now, directors and brothers, Ryan and Darren Miles have headed up operations at the award-winning firm but on July 10th, 2020, they were joined by fellow sibling Jo-Ann Miles, who has become their new Head of Customer Communications.  Jo-Ann's latest involvement with Miles Hire will mean all three children will now be working at the family business passed down to them by their much-loved father, David.
Jo-Ann's introduction to the company follows the retirement of Gwyn Morris, former Business Development Manager, who has now decided to retire from the firm after four years at Miles Hire. Gwyn says he has enjoyed his time working for the company and is excited to be passing the torch to Jo-Ann joining, following his departure; "I've no doubt Jo-Ann will thoroughly enjoy her new role at the company as I have done for so many years. I think for the whole family, Jo-Ann joining the team will feel much like the final piece to Miles Hire, as the three of them come to work together."
Jo-Ann's much anticipated position at the family-run business will see her take on the responsibility of the company's sales operations and customer relationships as she works in her new face-to-face role, covering all three depots in Bridgend, Swansea and Cardiff.
"Our customers will absolutely love Jo-Ann," brother and Director, Darren Miles commented, "Throughout her career, she has clocked up years of experience in customer care and her warm and friendly approach will mean she'll prove an invaluable personal asset to our company. I'm so excited that Jo-Ann will be joining us."
Ryan Miles also commented on the news of their sister, Jo-Ann, becoming part of the company, saying he believed their father would be proud to see the three children working together in the family business. "She is a highly respected business person in her own right and we look forward to what she can bring to the family firm"
When asked how she felt about taking up the new position at Miles Hire, Jo-Ann expressed she was excited and enthusiastic about working with her brothers and the rest of the team; "It's a little bit different from anything I've ever done before, but I'm excited by the prospect of starting something new. My experience in customer care should see me settle in well, and I'm looking forward to meeting the regular customers that frequent Miles Hire."
About Miles Hire:
Established for over a decade, Miles Hire is a family-run plant and tool hire company with depots based in Swansea, Cardiff and Bridgend. Spearheaded by Brothers and Company Directors, Ryan and Darren Miles, following the passing of their beloved father, David, the South Wales firm have been recognised for their efforts in achieving safe standards in hiring tools and equipment, and customer service at the national level. The company has a wide range of equipment in-stock at their depots to meet the needs of construction, glazing and engineering industries along with DIY enthusiasts.
Miles Hire recently made local news for the innovative launch of their latest 'Digital Hiredesk' – a quick and easy web-based platform which enables customers to use a fast and efficient click-and-collect service.
They offer a vast range of equipment from leading manufacturers such as KUBOTA and their stock includes mini diggers, dumpers, hoists and cement mixers to scaffolding and safety clothing. Their diggers accommodate all needs and range from micro up to 3 tonnes. They also offer different sizes of dumpers. While their range of scaffolding includes the latest lightweight aluminium clean towers that are ideal for shops, hospitals and showrooms.