Independent Businesses Building for the Future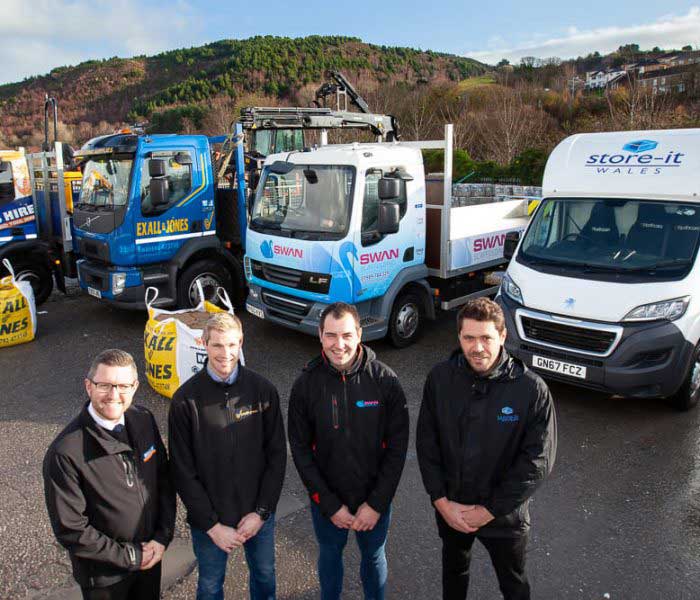 Four independent businesses in Swansea are coming together to help the construction sector across South Wales.
The four companies, all second generation, family-run organisations, have teamed up to offer customers an end to end service that covers everything from tool hire and building materials to scaffolding and secure storage.
The businesses – Miles Hire, Exall and Jones, Swan Scaffolding and Store-It Wales – have been working together informally for many years but all saw the benefit of joining forces to help each other grow.
Established Partnership
Tom Hole, Manager of the Killay branch of local builders merchants Exall and Jones, has been working for the family business since leaving school and was one of the first to see the opportunity of collaborating.
"We get hundreds of tradesmen walking through our doors each week to purchase raw materials for the various projects they are working on," said Tom, "and we are frequently asked for contacts who can help out with everything from plant hire to scaffolding and more.  We already had a relationship with Miles Hire, but the repeated request for scaffolding and safe storage got us thinking on how we could roll-out the model we had with Miles Hire to other local businesses."
The relationship with Miles Hire is certainly established, with both firms working proactively together for over 20 years; a partnership that was set up by Tom's grandfather John Exall and David Miles, father of Miles Hire Director, Ryan Miles.
"We've been hiring plant, power tool and powered access equipment to tradesmen and members of the public for over thirty years and have been working closely with Exall and Jones for the majority of that time," said Ryan.
"Any tradesman that enquired with Exall & Jones about hiring equipment were sent to us, and any person asking about building materials were sent to Exall & Jones," said Ryan.
New Opportunities
While this method worked well, the two businesses have developed the process further and now have extensive marketing materials at each others site, exclusive promotional offers for each other's customers, regular "open-days" to exhibit equipment and materials as well as cards to help each business track the success of the referral system.
"We encourage our counter teams to use the relationships they have with customers to find out about the projects they are working on and actively look for opportunities to refer the services of the other business, and it was from these discussions that we realised we needed a partner in the scaffolding and safe storage business." continued Ryan.
Step forward, Gareth Rees-Jones and Lloyd Cole.
Gareth, who runs Swan Scaffolding and Lloyd, who runs Store-it Wales, both oversee second-generation, family-run businesses, something that resonated with Ryan and Tom.
"The similarity was clear to see, but more importantly, both Gareth and Lloyd shared our vision for collaboration and understood the strength of working together to help each other's business grow," said Tom.
As specialists in residential and commercial scaffolding, Gareth's company has almost 50 years of experience working with customers across the region and saw the value of working together immediately.
"There are lots of nationals in the area offering similar services, so to be able to recommend a local, family-run firm that we know will do a good job is of huge benefit to our, and the reciprocal arrangement is the icing on the cake," said Gareth.
Independent storage specialists, Store-it Wales, are the latest business to join the group and offer businesses in the construction sector secure on and off-site storage solutions.  When Lloyd was introduced to the other members and saw how the partnership would work, he too saw the benefit.
"Many of the tradesmen who use our services are family run, independent businesses themselves, so to be able to refer them to similar organizations not only helps everyone concerned but really does keep business local, something I am passionate about," said Lloyd.
This approach of partnering local independent businesses gives the group the combined strength of a much larger firm and all four businessmen have bought into the concept of "together-stronger".
"We meet monthly to identify opportunities, monitor the progress of the partnership and brainstorm new ideas," said Tom, "and have recently launched a new design for our 1-ton sling bags that feature the logos of all four partner firms."
The Future
As the partnership goes from strength to strength, they are actively looking for new businesses to join the group as they seek to offer the construction sector a "one-stop-shop" for professional trades to get all the services they need to operate successfully.