Family Run Welsh Business Voted Best In UK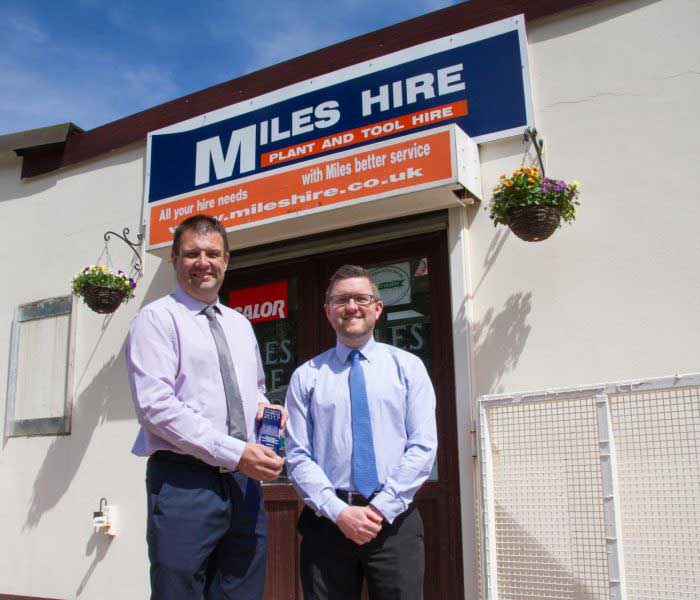 Miles Hire, the independent plant and tool hire specialists, have beaten off stiff competition from national hire firms to win UK Hire Company of the Year.  The award, which is issued by the Hire Association of Europe, is considered the highest achievement in the UK hire sector and is a real coup for the family run business.
The company, which has its head office in Swansea and depots throughout South Wales, has been in the family for two generations and has been through some challenging periods, the award is the perfect recognition for their ambition and tenacity.
Director Ryan Miles picks up the story, "Plant and tool hire has been in our family for over 30 years.  Before Miles Hire there was DSM plant hire, our fathers hire company (David Sydney Miles: DSM), which was dissolved into Miles Hire 14 years ago when it became the three of us, myself, Darren and our father. When our father passed away suddenly 11 years ago, we were left with a fledgeling business that was about to hit the rocky shores of a recession.
"It was a trial by fire without our father's experience but we battled through, working all the hours we could to keep Miles Hire going, chasing down every opportunity but maintaining the belief that our father instilled in us about customer service being our top priority.  This was challenging when competitors were trying to give equipment away at rates we could not match but we continued that belief even during difficult times.  Not only is it now one of our greatest strengths, but it's also what sets us apart from the competition and keeps customers coming back".
Alongside a strong belief in keeping customer service at the core of everything they do, the team understands the power of relationship building with customers no matter who they are or what they need.
Darren Miles continues "Another advantage we believe in Miles Hire's success has been working with others, whether that has been other independent hire companies or builders merchants or large nationals.  Building up respect with these companies has allowed us to open three further depots inside independent builders merchants and passing business between us all has benefited each company and more importantly, the customer".
In addition to focusing on their own business, the brothers have also looked at ways to develop the trades and construction sector across South Wales as founding members of the 'Builders Breakfast Exhibition'.  Ryan Miles explains, "There are a lot of multi-million-pound projects underway in the local area however from our own experience and that of our customers, the general feeling was the big projects were out of reach. After contacting the local authority and Welsh Government, it became apparent the projects were not closed to "the little guy" however there was a disconnect between the project managers and local trades as neither knew how to talk to the other.
"Out of this revelation was born the Builders Breakfast Exhibition, an event designed so both parties could talk to each other.  We held the first event in February 2016 and attracted over 15 exhibitors, 111 attendees and a presentation from the local authority on its £500m redevelopment plans for Swansea City Centre and details of how local businesses can get involved. We reviewed the event and have planned additional Builders Breakfast Exhibition events across Wales during 2017 and 2018 and have attracted landmark projects such as the Tidal Lagoon to engage with the local trades and construction sector".
These are some of the key headlines from Miles Hire however the final word is from Darren Miles; "I feel we make a great effort in the hire industry in trying to make a positive difference, whether to our staff, our customers or our city and that I think it has benefited us all and are extremely proud to have won the Company of the Year Award"